New Year's or New Life's Resolution, the Best Gift is Your Health!
We help smokers Quick Smoking since 1992, the Natural & Easy Way!
It's time to quit! Yes, it's hard to believe, but true. There's nothing to swallow, just breathe (smell) in this herbal quitting aroma liquid from a small, inhaler bottle, and you could be one of the many to stop smoking, quit in one week. It's different from all other kinds:
When you smell this herbal liquid, the pleasant-smelling aroma travels through the nasal passages to the brain. Here, it changes the body's chemistry in a subtle but powerful way -- and helps eliminate the craving for cigarettes. Scientists know that the sense of smell is extremely powerful. Unlike other sense stimuli that travel to the brain's thalamus, olfactory stimuli travel directly from the nose to an older part of the brain called the amygdala. This part of the brain plays a major role in regulating the emotions and the formation of habits.
The aroma from Smoker's Herbal Aroma liquid helps the body reject the taste of tobacco. After all, it's not your lungs that crave nicotine, it's your brain that has to be satisfied.
It has been a year since I have ordered from you and I am still not smoking. I ordered the inhaler and smokeless cigarettes. I thank you over and over again as I have tried many products that have failed. Your products have changed my life and given life back to me!

---Gamblingrannie, MO

I lost the desire for smoking almost immediately. Later, when I occasionally would smoke, it had no taste and wasn't pleasant to smoke. After 3 days, whenever I wanted to smoke I would smell the aroma from the bottle and lose the desire.

---Robert F., Newmanstown, PA
Our Smoker's Herbal Aroma Nasal Inhaler (stop smoking herbs) is introduced in a popular book, ISBN 1-57954-134-8, The Herbal Drugstore by Dr. Linda B White, M.D. and Steven Foster, authority of natural health, herbs. Smoker's Herbal Aroma (stop smoking herbs) has benefits for both Smokers (to quit) and Non-smokers (to avoid Passive Smoking). To quit smoking now, try our natural Smoker's Herbal Aroma Inhaler.
中草药戒烟
| | |
| --- | --- |
| Natural herbal aroma oil from 16 herbs | 100% Natural, TCM Acupoint skin therapy |
| 戒烟宁闻剂 3 ml/bottle $29.99 | 手部穴位戒烟贴 14 patches/box $14.99 |
| Smoker's Herbal Aroma Inhaler | Anti-Smoke Herbal Patches |
| | |
| | |
Our 5x security: 1. SSL Secure Server, authorized Shipping Cart with VERIFIED SECURE SEAL; 2. Your credit card is NOT charged automatically. It's never charged before security checking by Our human staffs. Our Offline Payment Processing is more safe for you; 3. Guarantee to delete your credit card # from our computers; 4. 30 days Money-Back Guarantee (Read detail on Shopping Cart); 5. Enter your email address on order form and we'll email a Tracking No. for Delivery Confirmation of your package.
PHYSICIAN SURVEY for Smoker's Herbal Aroma to quit smoking in the US
A survey was done in September, 1994 to 28 health professionals in the US, including 3 Medical Doctor (MD), 3 Chiropractors (D.C.), 9 Oriental Medical Doctors and 13 Acupuncturists. They used Smoker's Herbal Aroma inhaler (stop smoking herbs) to help 474 smokers of their smoking patients to stop smoking and found that: 61% of them were very effective or highly effective, 38% were somewhat effective (i.e. 99% were effective in total) and 96% of them reported no any side effects after quitting.
No medicine! No drugs! No pills! No videos or tapes! No hypnosis! No long-term programs!
It's NOT an oral inhaler, you don't need to spray and inhale any liquid. Just use the herbal quitting aroma, smell the pleasant herbal aroma to stop smoking! Just SMELL the herbal quitting aroma by your nose to quit or cut down on cigarettes in a few days.
Whether you are a smoker or just want to help someone you love to stop smoking; Whether you want to quit smoking or just cut down on cigarettes; Whether you worry about your health, money, or your loved ones.
This quitting aroma natural remedy from quit smoking herbs is the smoke away solution for your nagging problem of smoking, and Five Good Reasons why to use this amazing herbal aroma liquid, medicinal herbal formula to Quit Smoking the Easy and Natural Way!
Works Quickly to quit smoking;
Works Automatically for smoking cessation;
Completely Natural and Safe for smoke away;
Over 90% Effective Rate in about one week for most cigarettes smokers;
So Simple to Use, quitting smoking now!
PACKAGE: 3 ml herbal extract aroma liquid in a 5-6 ml inhaler Amber bottle (the bottle is 3/5-1/2 full), to guarantee you just smell the aroma, not inhale or sniff the liquid.
INGREDIENTS: Areca Nut 槟榔, Chinese Ginseng 人参, Chrysanthemum 菊花, Cinnamon Bark 肉桂, Cordate Houttuynia 魚腥草, Dried Orange Peel 陈皮, Gastrodia Elata 天麻, Japanese Honeysuckle Flower 金银花, Licorice 甘草, Lopanthus Rugosus 藿香, Peppermint 薄荷, Pheretima Asiatica 地龙, Polygala 远志, Prickly-Ash 花椒, Pseudoginseng 田七, Woo-Long Tea 乌龙茶, Food-grade Alcohol 食用酒精 (<1%), Food-grade Essential Oil 食用香精, Distilled Water 蒸馏水.
DIRECTIONS: Just SMELL the aroma, not inhale or sniff the liquid. You don't need to open the stopper, just open the cap and smell directly. One bottle lasts about 1-2 weeks. One bottle is usually enough for one smoker to quit.
INTRODUCE our 100% natural Stop Smoking Herbal Patches: New! All Natural contents, No Nicotine, No Tobacco, No Medicines! 33% off Promotional Sale; Up to 60% off wholesales for Health Professionals or Distributors!
Anti-Smoke Herbal Patch 手部穴位戒烟贴
INGREDIENTS: Cloves 丁香 23%, Acanthopanax 刺五加 19%, Cinnamon Bark 肉桂 25%, Lanoline (Wool fat) 羊毛脂 13%, Glutin 明胶 9%, Water 11%.
PACKAGE: 14 pieces per box, each sealed in a single wrapped foil bag.
DIRECTIONS: Supply an Anti-Smoke Patch to the Tianmei (Tim-Mee) acupoint on one hand per day (Keep it on 16 hours or longer). One patch a day for 14 consecutive days (It may need longer for some smokers).
Where Is Tianmei (Tim-Mee) Acupoints?
Tianmei point is a new acupoint found by Chinese doctors and used for stop smoking. It is not in traditional meridians and located at the soft concave just between L7 (Lieque) and LI 5 (Yangxi) acupoints, felt sensitive when pressing. Don't worry if you don't know what are L7 and LI 5 points.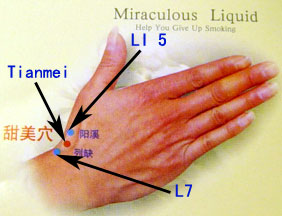 Anti-Smoke Patch adopts the TCM trans-dermal (through skin) therapy. The active ingredients can penetrate the skin and act at sensitive nervous system. It may recover the central nervous function which is destroyed by nicotine, and may stimulate the gustatory cells in mouth. Let the smokers feel insipid, smelly and disgusted when they are smoking, then help smokers abstaining from smoking. The active ingredients may also decompose nicotine and other unhealthy chemicals to diminish the uncomfortable or frustration feeling after quitting or cutting down on cigarettes.
Our herbal formulas, included Smoker's Herbal Aroma oral inhaler, Anti-Smoke Herbal Patches, Golden Herbal Lozenges, Sore Throat Sprayed Herbal Powder, West Lake Smoker's Herbal Green Tea, are approved by Chinese government and have been used for many years by thousands of smokers in Asia before imported into the US. Dr. Wu, a Chinese Medical Doctor and herbalist, checks all herbal ingredients carefully to make sure without any harmful contents.
Stop Smoking Now, for your health, for your family, for saving money, for the whole world and for the New Year's or Your New Life Solution!
Disclaimer: Traditional Chinese Herbal Formulas have been used for centuries and knowledge of their special properties has been collected throughout many ages. But we don't recommend use of herbs as a complete substitute for regular diagnosis or medical care which you should ask your medical doctors.